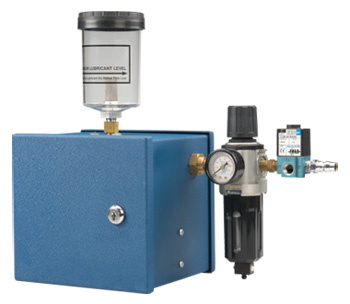 Use of vegetable-based lubrication oil to meet environmental protection requirements.
To eliminate the use of large amounts of coolant, which causes environmental pollution.
Only a small amount of cutting oil is required to achieve high-efficiency cooling, saving considerable coolant cost.
Easy to install. Compact construction with small space occupation.
Air flow rate is adjustable.
Mist spray frequency is adjustable.
To extend tool service life while saving tool cost.
Effectively upgrades feed rates to increase productivity.
Allows for creating finer surface finish.
Machining center
Lathes
Milling machines
Band saws
Circular saws
Drilling machines
Tapping machines
Grinding machines
Punch presses
Gear hobbing machines
Broaching machines
Special purpose machines